Spring is a beautiful time of year in the low country, everything is in full bloom and the temperatures are barrable enough to enjoy it! Below is a list of local events happening around Charleston, SC that will encourage you to get out and stop to smell the roses.. or at the very least, give them a glance.
♦Festival of Houses and Gardens, March 11 – August 17 2021♦
https://www.historiccharleston.org/blog/events/category/2021-festival-of-houses-gardens/
Our highly acclaimed Festival of Houses and Gardens looks a bit different this year. However, we're delighted to offer this annual celebration of Charleston's history, culture, gardens and architecture with extended programming throughout the summer!
The 2021 Festival has been re-imagined to accommodate COVID measures with smaller audience sizes, virtual programming, more outdoor programming and social distancing protocols in place. All tours this year will feature private gardens and exteriors only.
Our programing will begin virtually on March 11th, with in-depth looks at Charleston-related topics ranging from Gullah Cuisine to popular local legends and lore with our Food For Thought Luncheon Lectures. These popular thought-provoking lectures featuring acclaimed local experts will resume in-person beginning April 5th.
Join us on Fridays, April 30th – May 21st for our popular Glorious Gardens Tours featuring exclusive access to private gardens in the Historic District. And make sure to begin your day with a Morning History Walk with some of Charleston's most knowledgeable licensed guides.
♦Spirit of Plantasia, April 1-29 2021♦
www.chashortsoc.org/spirit-of-plantasia/
This year, the month of April will be filled with what we've dubbed the Spirit of Plantasia. Garden enthusiasts throughout the Lowcountry will able to choose from some of our 'greatest hits,' along with new educational and social events held in a fun and safe environment — all designed to provide a full gardening experience that will delight, and enhance your gardening knowledge. You can see the full lineup of events in the right hand column. To view more details on each event simply click the event title and it will take you to a page with more information.
♦Spring Garden Strolls & Wine Tasting, April 7 – May 26 2021♦
https://www.middletonplace.org/news-and-events/events/
Sip and stroll in America's oldest landscaped gardens while sampling old and new world wines. Each Wednesday evening, a different garden location will be paired with a selection of wines for you to sample. Enjoy spectacular views and light snacks. Safety guidelines will be in place.
♦Charleston Farmers Market, Saturdays♦
Located in Marion Square in the heart of Historic District in Downtown Charleston, SC, the Charleston Farmers Market is open each Saturday, from April through the end of November, 8:00 AM to 2:00 PM with additional markets held on Sundays during the Piccolo Spoleto Festival in May and June as well as Saturdays and Sundays in December for our Holiday Market. The Charleston Farmers Market is dedicated to the support and advocacy of Lowcountry farmers, growers, prepared/packaged food, artisans, crafters, live performers and community groups and activities. We offer a variety of local produce, plants, herbs and cut flowers as well as breakfast and lunch vendors, live entertainment and an assortment of juried arts and crafts from local artisans. Attracting locals and tourists alike, the CFM is the community connection, bringing together people from all parts of the Lowcountry and beyond. Whether you are a local that frequents the CFM or a tourist visiting for the weekend, we have something for you to enjoy. We greatly appreciate your love & support and we look forward to seeing you in Marion Square at the Charleston Farmers Market!
♦Wine Down Wednesday, April 2021♦
https://www.ccprc.com/1724/Wine-Down-Wednesday
Explore West Ashley's beautiful Old Towne Creek County Park during Wine Down Wednesday. Guests will enjoy wine, food truck fare, and live music at this hidden gem located in West Ashley.
There will be no onsite registration. You must purchase your ticket in advance to attend this event. Tickets are very limited and this event will sell out.
Admission is $15 and includes wine, live music and a commemorative wine glass. Preregistration is required and will be taken online and over the phone until 2 p.m. the day of the event or until event sells out.
♦(Ladson) Vintage Market Days of Charleston, April 16-18 2021♦
https://vintagemarketdays.com/market/charleston/index.php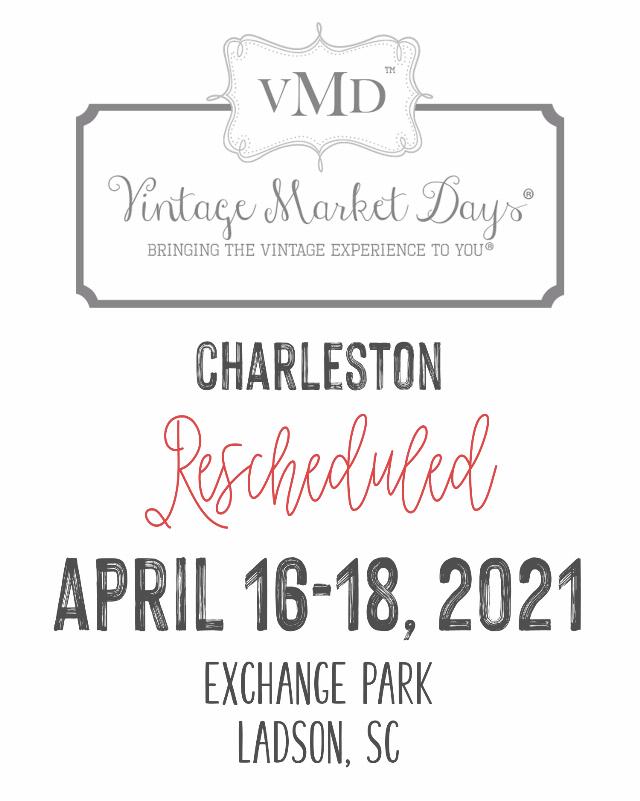 ♦Blessing of the Fleet & Seafood Festival, April 25 2021♦
The Annual Blessing of the Fleet & Seafood Festival presented by East Cooper Medical Center and Harris Teeter is one of the most highly anticipated events of the year! The festival pays tribute to Mount Pleasant's local shrimping and fishing industry, offering a boat parade, live music, craft show and lots of free activities with the picturesque Ravenel Bridge and Charleston Harbor for a backdrop!
#JustAsk where your seafood came from before you buy! Support local and wild caught to support your fishermen…nothing beats Wild American Shrimp!
♦North Charleston Arts Fest, April 28 – May 2 2021♦
www.northcharlestonartsfest.com
The North Charleston Arts Fest will return in 2021, after being cancelled in 2020 due to the COVID-19 pandemic.
Join us for the 38th annual event set for April 28-May 2, 2021!
Note that principal events such as the World Art Expo at Riverfront Park and Children's Festival will not take place in 2021.
All in-person festival events will be presented with COVID-19 safety measures in place (face coverings, social distancing, etc.).
Some virtual programming will be offered.